Public Art
Public Art is invaluable because it's accessible – open to everyone. It humanizes the built environment, invigorates public spaces and acts as a statement of welcome to visitors. Art brings people together. Displaying art in public places inspires engagement and a feeling of belonging to a community. That's why the Town of New Glasgow is committed to supporting art in public spaces.
MacGillivray Injury and Insurance Law Building (former Roseland Theatre)
Vivid colours and geometric shapes are a cornerstone of Christian Toth's unique graffiti artwork seen on the former Roseland Theatre building in the heart of downtown New Glasgow.
"Justice" is a graffiti art piece that includes bright, colourful geometric tones that began as an original piece of work on a 20-foot by 10-foot canvas. This canvas, which was too large to create inside, was digitized and turned into 160 panels weighing 150 pounds each. Toth worked with a technical engineer in Austria to create these panels that were then installed onsite by MacGillivray Properties Ltd.
Toth also acted as project manager for the opposite exterior wall of the Roseland Theatre, the Viola Desmond Art Display. A number of submissions were chosen by the Viola Desmond Commemorative Committee to hang on the wall. Toth had the artwork turned into panels by the Austrian company, FunderMax, and designed the stainless-steel film reel weighing in at a whopping 7,000 pounds.
For the final addition, Toth spray painted his graffiti style of art on the building to match the panels on either side.
After completing the Roseland Theatre, Toth went on to add a splash of colour to the MacGillivray Law Riverfront Cat Sanctuary located on the riverfront. You can watch the cats by visiting MacGillivray Law Live Cat Sanctuary Live Stream.
Dalhousie Street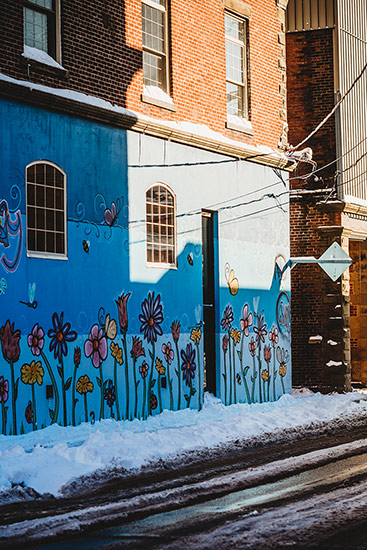 MacDonald Street
The Canada 150 mural by artists Gordon MacDonald and Sage MacLeod took more than a week to create.
"We looked at all the colours that were in the [Canada 150] logo and went from there," says MacDonald. "Kind of picked colours that were similar for the background and then tried to pick spray paint that was similar to the actual logo itself so it would stand out more."
H&R Music Building
MPL Business Centre
Another stunning installation by Christian Toth, you can find this colourful mural on Archimedes Street.